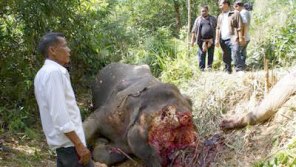 The killing and explotation of animals continues in Thailand!
This elephant was found brutally killed and the tusks were removed. If you travel to Thailand -please make sure that you don't support any of these groups who take advantage of animals and use them purely for money making business!
You can find the whole article here:
Awful government mass sterilization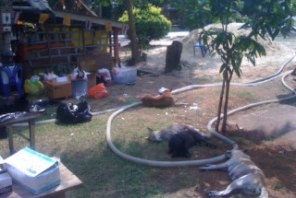 February 2012
Investigating a mass sterilization in Thailand. They didn't want anyone to know what was going on and that they were doing it wrong...
While I was working as a vet. assistant at the veterinarian clinic in Thailand, the vet. Lisa got a phone call that the government paid vet. students (and teacher) had set up a tent by one of the temples and were grabbing stray dogs and cats for sterilization and nutering.
The problem is that every time they do this (a yearly thing I think) they are doing it outdoors in the dirt!! I got extremely upset and Lisa told me that there wasn't anything I could do about it, she had been reporting them and fighting the whole thing for years.
But I still went there to take photos and ask questions.
I beg all of you people who go to Thailand for vacation (and other countries where this likely occurs) -please stand up for these poor animals!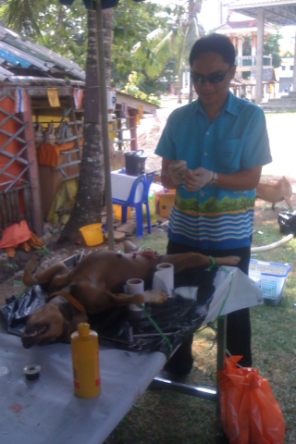 Dogs were lying around everywhere, whimpering with pain. No painkillers and no one to look after them when they wake up, terrified, and confused by the pain and the fact that they still are "high" an can't walk.

The wounds of the cuts were badly sewed and will cause a lot of pain and infection to the dogs.
After seeing this massacre I felt it would have been much more humane to have euthanized the dogs instead. But these people pretend that they are doing good.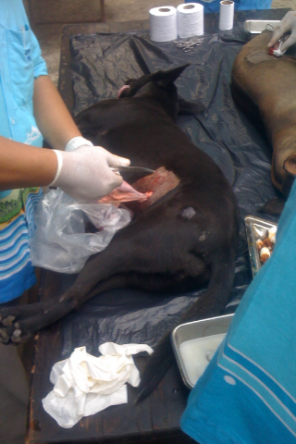 The only thing you have to do is show your discontent for how things are being done! And report it to the tourism police as a disturbing matter!

If everyone passing by lets them know that what they are doing is dangerous and animal cruelty, they eventually have to stop!
Suggest fund raising as an option to be able to pay for sterile operation locations etcetera.
I hurried down there and made sure none of them were dogs that Lisa had already done, and therefor they would be cutting open a dog for no reason!

I just went there and took a lot of photographs, they tried to stop me but I just went straight in to their enclosed corner of the garden. If they do try to stop you if you ever encounter them -ignore them and continue taking photos (also of the person telling you to leave). If what they're doing is good -why wouldn't you be able to inspect the operation?
They cut them open, digged around for the ovaries and pulled out more insides than was really needed (if they had known what they were doing), cut the the ovaries off and stuck everything back in. All of this was done in a dirty backyard! No sterile gloves, instruments or drapings. These digs will have serious problems with secondary infections, all of them will suffer a lot and most of them will die.

I asked them repetedly about the dirty environment and that they have to make it sterile next time -if they don't have enough money -they can't do this sort of surgery!
They just laughed it off by saying they give the dogs antibiotics.
First of all, that shouldn't be necessary, and isn't sure to fight off these upcoming complications. Second of all -he was lying. Maybe he will give them one injection which will last 3 days -but then what? 3 days of antibiotics is only going to cause more trouble, without helping the dog at all. The dogs are street dogs and will run away from this 'slaughter' as soon as they are able to walk, plus that this "team" will be moving on to the next place the next day and continue performing this animal cruelty next to a lot of different temples around Thailand.
The things you don't know about different countries idiotic ideas...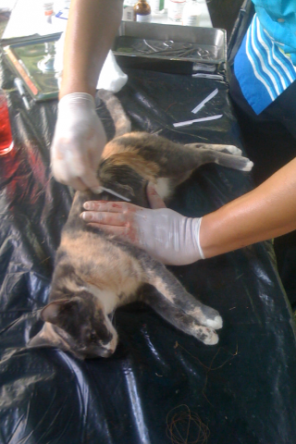 He is starting up on a new patient -with the same bloody gloves from the previous patient!!
Horror is not word enough.
I was trying to make them understand that they have to have a sterile environment for this kind of surgery. Not on dirty trash bags with the same non sterile gloves for all the dogs and cats...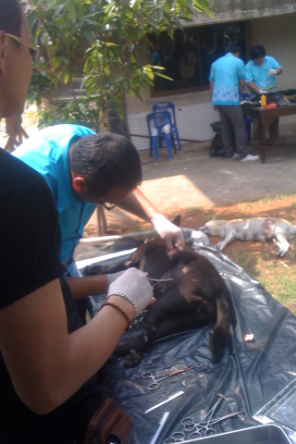 I am boycotting Thailand.
I reported what I've seen to the police and told the tourist police that this upsets tourists a lot and you should fund it to be in a sterile place, not outside on filthy trash sacks. I asked them to please keep an eye on the dogs, feed them and call a vet. if they start to feel sick etcetera.