Photos of cute animals all over the world!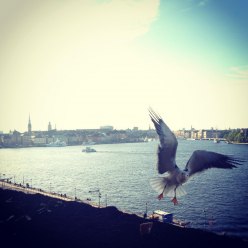 You can choose a category of the animal you would like to see.
Domestic animals, are the ones we usually keep at home -cats, dogs, rabbits etc. but these animals live on the streets, without a home in most parts of the world, so in this section you can find photos of me and Samuel hanging out with stray animals on our travels.
Farm animals, horses, cows etc. Usually live in horrific conditions. I have some photos with me at nice (in comparision) farms, but also some photos that show how the animals most commonly live...
Wild animals, all animals that don't usually interact with man, but sometimes they have been rescued and are rehabilitating before being let loose, those are the photos in which I stand close to them.
I am against zoo's and all acticity trying to make a profit out of animals -such as circuses and tourist set ups!
For example the drugged tigers and crocodiles in Bangkoks TIGER TEMPEL, the many monkeys and macaques performing in front of laughing, ignorant tourists etc.!
Pets, our own little "babies". I have photos of my and my friends' animals, but if you want, you can email me a picture of your pet, and I'll put it up!